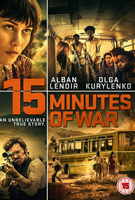 Release 2019
Like/Dislike
Director: Fred Grivois
Writers: Ileana Epsztajn, Fred Grivois, Jérémie Guez
Stars: Alban Lenoir, Olga Kurylenko, Sébastien Lalanne
IMDB: https://www.imdb.com/title/tt8060774/

In February 1976 in Djibouti, a school bus was taken hostage at the Somali border. The GIGN is sent on the spot. After 30 hours of tension, a rescue operation is organized.
Comments for video: Survival Code