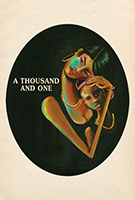 Release 2023
Like/Dislike
Director: A.V. Rockwell
Writer: A.V. Rockwell
Stars: Teyana Taylor, Aaron Kingsley Adetola, Aven Courtney, Josiah Cross, William Catlett
IMDB: https://www.imdb.com/title/tt12427158/

After unapologetic and fiercely loyal Inez kidnaps her son Terry from the foster care system, mother and son set out to reclaim their sense of home, identity, and stability, in a rapidly changing New York City.
Comments for video: Survival Code
Featured videos