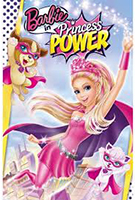 Release 2015
Genre Animation
Like/Dislike
Director: Zeke Norton
Writers: Marsha Griffin
Stars: Rebecca Husain, Patrica Drake, Britt Irvin, Michael Kopsa, Kelly Sheridan
IMDB: http://www.imdb.com/title/tt4215332/

Barbie stars as Kara, a modern-day princess with an everyday life. One day, after being kissed by a magical butterfly, Kara soon discovers she has amazing super powers allowing her to transform into Super Sparkle, her secret, crime-fighting alter ego . But her jealous cousin also catches the butterfly and transforms into Kara's superhero nemesis, Dark Sparkle. When they discover the kingdom's true enemy, can they put aside their differences to form one super team?
Comments for video: Survival Code