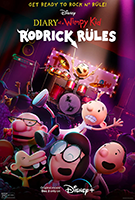 Release 2022
Genre Animation, Comedy, Drama
Like/Dislike
Director: Luke Cormican
Writers: Jeff Kinney, Kathleen Shugrue
Stars: Brady Noon, Ethan William Childress, Hunter Dillon, Erica Cerra, Chris Diamantopoulos
IMDB: https://www.imdb.com/title/tt15847828/

A new school year, his brother Rodrick teases him over and over and over and over again. Will Greg manage to get along with him? Or will a secret ruin everything?
Comments for video: Survival Code