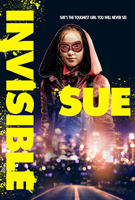 Release 2018
Like/Dislike
Director: Markus Dietrich
Writer: Markus Dietrich
Stars: Ruby M. Lichtenberg, Anna Shirin Habedank, Lui Eckhardt
IMDB: https://www.imdb.com/title/tt7689532/

Following an accident in her scientist mother's laboratory with the new wonder fluid NT26D, which is designed to fight illnesses genetically, 12-year-old Sue - Ruby M. Lichtenberg, now has the unique ability to make herself invisible. So when Sue's mother is kidnapped right before her very eyes, she is just the girl for the job. Together with Kaya (Anna Shirin Habedank), a rather nerdy girl of the same age who could teach James Bond's Q a few things, and Tobi, who not only looks good and has the hots for her but can also do amazing things on his bicycle, Sue and her friends combine their strengths and talents to free her mother, unmask the conspiracy behind her disappearance and bring the truth to light.
Comments for video: Survival Code