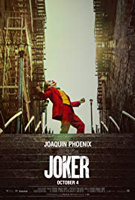 Release 2019
Like/Dislike
Director: Todd Phillips
Writers: Todd Phillips, Scott Silver, Bob Kane, Bill Finger, Jerry Robinson
Stars: Joaquin Phoenix, Robert De Niro, Zazie Beetz
IMDB: https://www.imdb.com/title/tt7286456/

In Gotham City, mentally-troubled comedian Arthur Fleck is disregarded and mistreated by society. He then embarks on a downward spiral of revolution and bloody crime. This path brings him face-to-face with his alter-ego: "The Joker".
Comments for video: Survival Code