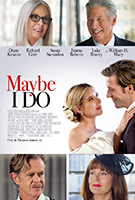 Release 2023
Like/Dislike
Director: Michael Jacobs
Writers: Michael Jacobs
Stars: Mezi Atwood, Kevin D. Benton, Luke Bracey, Setty Brosevelt, Richard Gere
IMDB: https://www.imdb.com/title/tt20879602/

Michelle and Allen are in a relationship. They decide to invite their parents to finally meet about marriage. Turns out, the parents already know one another well, which leads to some differing opinions about marriage.
Comments for video: Survival Code
Featured videos