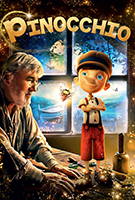 Release 2015
Like/Dislike
Director: Stepán Gajdos
Writers: Carlo Collodi, Stepán Gajdos
Stars: Vica Kerekes, Pavel Reznícek, Igor Ondrícek, Jaroslav Matejka, Jan Grundman
IMDB: http://www.imdb.com/title/tt4242112/

The world's most loved fairytale is back in a whole new fantastic imagining in Pinocchio. When a piece of pine-wood falls into the hands of the poor old toymaker Geppetto, he carves it into a puppet which he names Pinocchio. To Geppetto's delight, Pinocchio comes to life - and like most little boys, he's full of reckless whims and wild ideas! His crazy escapades lead him into a series of madcap adventures from joining the circus to visiting the inside of whale! Along his journey, and throughout all the fun, Pinocchio learns to be considerate and courageous and learns what it takes to become a real boy.
Comments for video: Survival Code