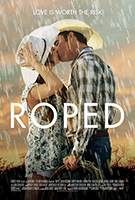 Release 2020
Like/Dislike
Director: Shaun Paul Piccinino
Writers: John Ducey
Stars: Josh Swickard, Casper Van Dien, Lauren Swickard, Christina Moore, John Schneider
IMDB: https://www.imdb.com/title/tt8523028/

A progressive town erupts when a traveling rodeo lands within its city limits. The town councilman butts head with a young cowboy on his rise to super stardom. When the councilman's daughter falls in love with the cowboy their battle becomes deeply personal.
Comments for video: Survival Code