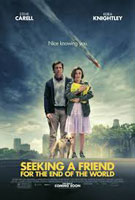 Release 2012
Genre Comedy, Drama, Romance, Sci-Fi
Like/Dislike
Director: Lorene Scafaria
Stars: Brad Morris, Steve Carell, Nancy Carell, Mark Moses, Roger Aaron Brown
IMDB: http://www.imdb.com/title/tt1307068/

As an asteroid nears Earth, a man finds himself alone after his wife leaves in a panic. He decides to take a road trip to reunite with his high school sweetheart. Accompanying him is a neighbor who inadvertently puts a wrench in his plan.
Comments for video: Survival Code