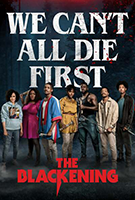 Release 2022
Genre Comedy, Horror, Thriller
Like/Dislike
Director: Tim Story
Writers: Tracy Oliver, Dewayne Perkins
Stars: Antoinette Robertson, Dewayne Perkins, Sinqua Walls, Grace Byers, X Mayo
IMDB: https://www.imdb.com/title/tt11703244/

Seven Black friends go away for the weekend and end up trapped in a cabin with a killer who has a vendetta. Will their street smarts and knowledge of horror movies help them stay alive? Probably not.
Comments for video: Survival Code