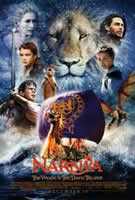 Release 2010
Genre Adventure, Family, Fantasy
Like/Dislike
Director: Michael Apted
Writers: Christopher Markus, Stephen McFeely, Michael Petroni, C.S. Lewis
Stars: Georgie Henley, Skandar Keynes, Ben Barnes, Will Poulter, Gary Sweet
IMDB: http://www.imdb.com/title/tt0980970/

Lucy and Edmund Pevensie return to Narnia with their cousin Eustace where they meet up with Prince Caspian for a trip across the sea aboard the royal ship The Dawn Treader. Along the way they encounter dragons, dwarves, merfolk, and a band of lost warriors before reaching the edge of the world.
Comments for video: Survival Code
Featured videos