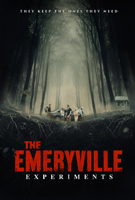 Release 2016
Like/Dislike
Director: Pritesh Chheda
Stars: Rebecca Chulew, Don Daro, Tess Cline, Deborah Abbott, Mark Reininga
IMDB: http://www.imdb.com/title/tt4513074/

When their car crashes, 4 college kids seek help in Emeryville - a dilapidated village. New comers discover that place was once a ground for clinical experiments gone awry and plot an escape. They find themselves hunted by crazies.
Comments for video: Survival Code