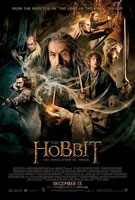 Release 2013
Like/Dislike
Director: Peter Jackson
Writers: Fran Walsh, Philippa Boyens, Peter Jackson, Guillermo del Toro, J.R.R. Tolkien
Stars: Ian McKellen, Martin Freeman, Richard Armitage, Ken Stott, Graham McTavish
IMDB: http://www.imdb.com/title/tt1170358/

The dwarves, along with Bilbo Baggins and Gandalf the Grey, continue their quest to reclaim Erebor, their homeland, from Smaug. Bilbo Baggins is in possession of a mysterious and magical ring.
Comments for video: Survival Code
Featured videos