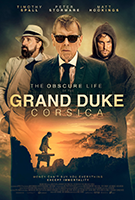 Release 2021
Like/Dislike
Director: Daniel Graham
Writer: Daniel Graham
Stars: Timothy Spall, Peter Stormare, Matt Hookings, Alicia Agneson, Noeleen Comiskey
IMDB: https://www.imdb.com/title/tt8400856/

In 1221 a young man is set on his path to becoming St. Francis of Assisi. A thousand years later an architect must build a mausoleum for a dying billionaire. Separated by history, these men's lives will be forever changed by a pandemic.
Comments for video: Survival Code