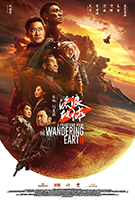 Release 2023
Genre Action, Adventure, Drama
Like/Dislike
Director: Frant Gwo
Writers: Yang Zhixue, Gong Geer, Frant Gwo
Stars: Andy Lau, Jing Wu, Andrew Lee, Willis Chung, Clara Lee
IMDB: https://www.imdb.com/title/tt13539646/

Humans built huge engines on the surface of the earth to find a new home. But the road to the universe is perilous. In order to save earth, young people once again have to step forward to start a race against time for life and death.
Comments for video: Survival Code