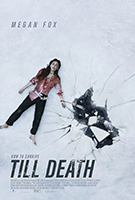 Release 2021
Like/Dislike
Director: S.K. Dale
Writers: Jason Carvey
Stars: Megan Fox, Lili Rich, Callan Mulvey, Eoin Macken, Jack Roth
IMDB: https://www.imdb.com/title/tt11804152/

A woman is left handcuffed to her dead husband as part of a sick revenge plot. Unable to unshackle, she has to survive as two killers arrive to finish her off.
Comments for video: Survival Code