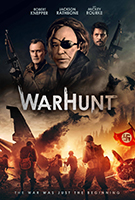 Release 2022
Genre Action, Horror, Thriller
Like/Dislike
Director: Mauro Borrelli
Writers: Mauro Borrelli, Reggie Keyohara III, Scott Svatos
Stars: Mickey Rourke, Jackson Rathbone, Robert Knepper, Fredrik Wagner, Polina Pushkareva
IMDB: https://www.imdb.com/title/tt6442686/

A US Army plane flies over Germany's Black Forest in 1945. It's suddenly enveloped by a swarm of crow feathers. As the aircraft plummets toward the ground, the AIRMEN glimpse the feathers converging to form a MYSTERIOUS WOMAN IN BLACK.
Comments for video: Survival Code