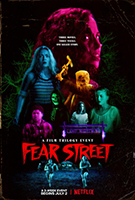 Release 2021
Like/Dislike
Director: Leigh Janiak
Writers: R.L. Stine, Kyle Killen, Phil Graziadei
Stars: Kiana Madeira, Olivia Scott Welch, Benjamin Flores Jr.
IMDB: https://www.imdb.com/title/tt6566576/

A circle of teenage friends accidentally encounter the ancient evil responsible for a series of brutal murders that have plagued their town for over 300 years. Welcome to Shadyside.
Comments for video: Survival Code