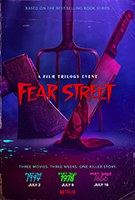 Release 2021
Like/Dislike
Director: Leigh Janiak
Writers: Zak Olkewicz, Leigh Janiak
Stars: Sadie Sink, Emily Rudd, Ryan Simpkins
IMDB: https://www.imdb.com/title/tt9701940/

Shadyside, 1978. School's out for summer and the activities at Camp Nightwing are about to begin. But when another Shadysider is possessed with the urge to kill, the fun in the sun becomes a gruesome fight for survival.
Comments for video: Survival Code