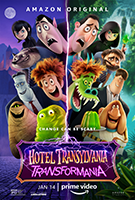 Release 2022
Genre Adventure, Animation, Comedy
Like/Dislike
Director: Derek Drymon, Jennifer Kluska
Writers: Amos Vernon, Nunzio Randazzo, Genndy Tartakovsky
Stars: Andy Samberg, Selena Gomez, Brian Hull, Brad Abrell, Fran Drescher
IMDB: https://www.imdb.com/title/tt9848626/

When Van Helsing's mysterious invention, the "Monsterfication Ray", goes haywire, Drac and his monster pals are all transformed into humans, and Johnny becomes a monster. In their new mismatched bodies, Drac, stripped of his powers, and an exuberant Johnny, loving life as a monster, must team up and race across the globe to find a cure before it's too late, and before they drive each other crazy. With help from Mavis and the hilariously human Drac Pack, the heat is on to find a way to switch themselves back before their transformations become permanent.
Comments for video: Survival Code