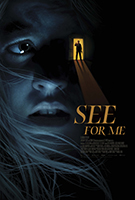 Release 2021
Genre Drama, Mystery, Thriller
Like/Dislike
Director: Randall Okita
Writers: Adam Yorke, Tommy Gushue
Stars: Skyler Davenport, Kim Coates, Jessica Parker Kennedy, Laura Vandervoort, Matthew Gouveia
IMDB: https://www.imdb.com/title/tt11209212/

When blind former skier Sophie cat-sits in a secluded mansion, three thieves invade for the hidden safe. Sophie's only defense is army veteran Kelly. Kelly helps Sophie defend herself against the invaders and survive.
Comments for video: Survival Code