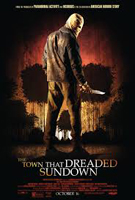 Release 2014
Genre Crime, Drama, Horror, Mystery, Thriller
Like/Dislike
Director: Alfonso Gomez-Rejon
Writers: Roberto Aguirre-Sacasa, Earl E. Smith
Stars: Addison Timlin, Veronica Cartwright, Anthony Anderson, Travis Tope, Joshua Leonard
IMDB: http://www.imdb.com/title/tt2561546/

65 years after a masked serial killer terrorized the small town of Texarkana, the so-called 'moonlight murders' begin again. Is it a copycat or something even more sinister? A lonely high school girl, with dark secrets of her own, may be the key to catching him.
Comments for video: Survival Code